I think it's fair to say that most of us know roughly what clinical governance is, as we all do audit and the Quality Improvement Project is an extension of this.  There are other aspects of Clinical Governance however – it basically encompasses how we run a safe, happy department.  There are 7 areas listed below (when I get more tech savvy I might be able to do some fancy graphics).
Staff Management
Patient experience and public involvement
Audit
Risk assessment
Effectiveness
Information Technology
Training, education and CPD
Staff Management
Comprising
Contracts
Qualifications
Ensuring adequate skill mix for the department
Induction
There are a number of legal checks (usually done by HR) which must be done before a member of staff can begin work in the department:
Verify identity
right to work including visa
professional registration and qualification
employment history and reference checks
criminal record and barring checks standard
occupational health checks standard
In the case of locums, 1-3 and 5&6 may already have been done adequately by the agency – if the agency has signed up to NHS employers checklist. However ultimately the trust is liable if there is an issue so we should check these checks have been made also.
It is important that 4 is done adequately by the ED – usually CVs are vetted by consultants or SAS drs.
Patient Experience
Complaints/Praise

Staff who are individually complimented are given copies to put in their portfolio
General praise is logged and also put on a notice board eg an 'awesome and amazing board'
Complaints in my current trust are all logged via datix to ensure a paper trail and makes it possible to highlight important trends – this forms part of…

Systems in place to learn from complaints
Strategies to incorporate experiences into service planning

I have no specific examples of this – maybe post below if you know of any examples of good practice?
Audit
We all know about audit – a system of examining what we are doing against recommended practice, making changes and re-examining.
Risk Assessment/Management
The detail below is taken from the BSUH NHS Trust policy
Risk management – all the processes involved in identifying, assessing and judging risks, assigning ownership, taking actions to mitigate or anticipate them and monitoring and reviewing progress
The Trust board has overarching responsibility, however number of different committees meet to ensure that HRR is a true reflection of the trust's risks and the action taken to resolve these: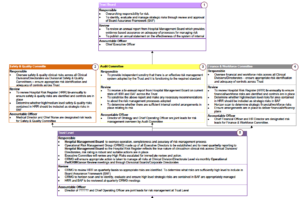 Trust Quality and Safety board

meet and review risk register biannually
determines whether high and medium risks should be included as strategic risks in the BAF, should also horizon scan
Divisional safety and quality

meet monthly and highlight new safety and quality risks,
informed monthly about unresolved high risks, significant risks, new risks, overdue risks and risks to be reviewed.
Finance and workforce review biannually
Operations risk management

review quarterly
all the risks relating to the organisations strategic frameworks
Clinical specialties

monthly
ensure that all risks contained in the HRR reflect the true nature of the risks held
Should try to manage risks at local level but if unable should bring them to directorate level
Ideally the HRR should be reviewed on a daily basis
Usually there will be a lead for clinical governance on the consultant team, however may also be the responsibility of the clinical lead
Effectiveness
Information Technology
Usually not the responsibility of any clinicians or nurses, although the clinical team may have responsibility for training on the use of equipment or issuing passwords.
If a new piece of equipment is brought in, it's important to ensure that training sessions are organised.
If access to blood results, radiology is a problem, often temporary password 'packs' can be obtained from IT to be left for locums.
Training, education and CPD
Trainees: are revalidated through their ARCP process
Non trainees: are revalidated through an appraisal process
Consultants: have a similar appraisal process
Locums: have a responsible officer as part of their agency who is responsible for ensuring they are up to date.